---
Terra Alta is a maintained community. Exterior maintenance such as lawn care and snow removal is handled by the community Homeowners Association.

Construction is now underway. All units completed or under construction are already sold. However, tours inside units are available by appointment.

A map detailing the location of Terra Alta is available here.

A Fact Sheet detailing distances to important nearby points is available here.

A brochure which outlines the building process is provided here.
---
Sample floor plans
are provided below. All are single floor with wide doorways and attached garage.

Plan # 1

Plan # 2

Plan # 3

Plan # 4

Additional Floor Plans from our home builder can be found on their web site, www.smihomes.com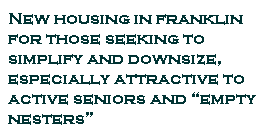 Buyers have choices of interior detail such as cabinetry, countertops, appliances, flooring / carpeting, bathroom fixtures, lighting fixtures, etc..... All homes have a front porch and a rear patio/deck area. Prices start in the $120's.

All roads will be maintained by Sandycreek Township upon completion of paving. Driveways and sidewalks are paved. All of the development is served by public water and sewer service and all utilities are buried. The Homeowners Association manages the sensible protective covenants to protect the value of the homes and the community.

Roughly one-half of the development is open space "common grounds", available for the use and enjoyment of the homeowners.

Please contact Teresa at 814-671-6564 for more information.